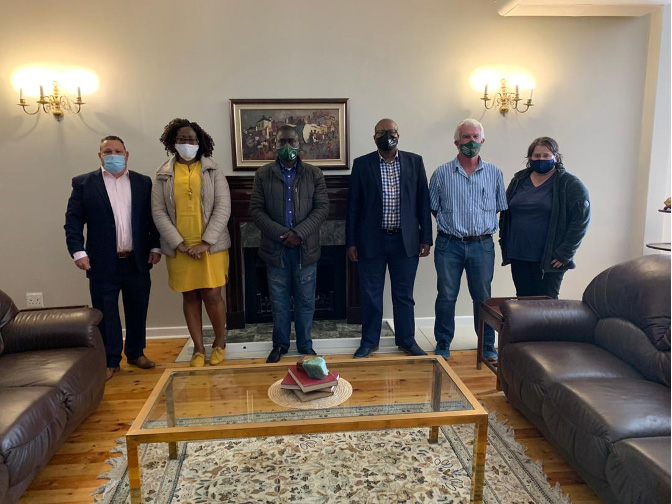 On 28 August 2020 OMDis met with the Mr Okeri Kasete, Mr Harry Tjihukununa, and Mr Wayne Handley in Oranjemund. The aim of the meeting was to discuss future agriculture development in the Tsau //Khaeb National Park along the lower Orange River, which is currently not included in the Land Use Plan or Management Plans for the park. The town of Oranjemund has been dependent on mining for the last 84 years, and for the town to be sustainable after mining, another large industry needs to be established. Agriculture can potentially provide up to 2000 jobs and is therefore a priority project. The land is currently under the jurisdiction of the Ministry of Environment, Tourism, and Forestry. It is critically important to avail of this land for the agriculture expansion and hence to contribute towards food security of the //Kharas Region and Namibia at large. Bearing in mind that such a development would take place within a National Park it is important to understand the context, development goals and stakeholder perspectives.
From left to right: Tony Bessinger – GM OMDis; Aunie Gideon – Business Development Manager – OMDIs; Harry Tjihukununa – Deputy Director (Southern Office MEFT); Okeri Kasete – Chief Regional Officer in the //Kharas Regional Council; Wayne Hadley – Chief Warden for the Tsau //Khaeb National Park; Ronel van der Merwe – Sustainability Specialist – OMDis.
News & Announcements
Through our news and announcements, we hope to keep you engaged yet inspired as we share Oranjemunds transform journey with you.
OMDis Town Transform Agency, Uconomy Namibia and Nedbank Namibia this week announced a collaboration that will boost the SME development...
Read More