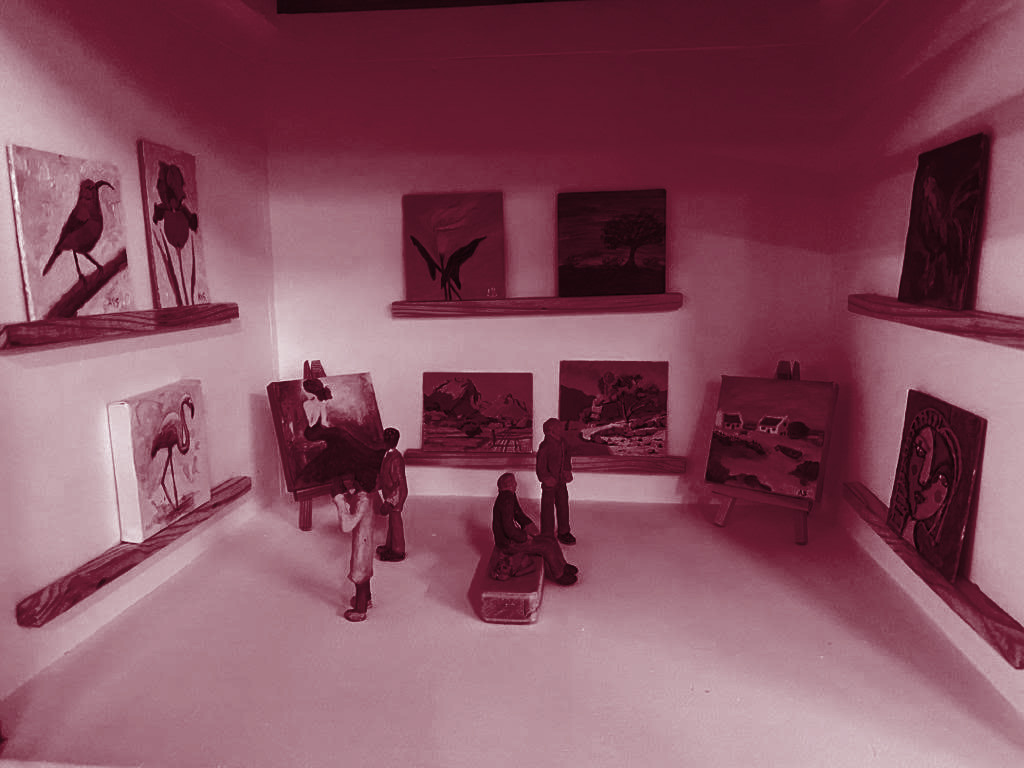 Local Artist Aurelia Sieberhagen presents her art initiative 'OMD Tiny Art Gallery'. The gallery is one of the world's smallest art galleries and is placed inside Oranjemund Spar next to the bookshelves.
"The idea is to discover the artists in Oranjemund and what they are doing. I believe everyone is an artist, some people are just more passionate about art than others, but the gallery is open to all. Maybe you want to try doing some art for the first time, but found a big canvas too intimidating. The small canvas is so much easier and I personally find it very relaxing to paint these small canvases." expressed Aurelia Sieberhagen.
On the right side of the miniature art gallery, you will find a box with some miniature canvases ready for you to paint or draw on. The tiny people, bench and easels are not for the taking. They are only there to give it an atmosphere of a gallery. "OMDis is sponsoring this project and I am very grateful for that. Without them, this project would not have happened. The miniature art gallery is going to be a fun project."
Many towns who depended on a single industry, or was failing economically (like Bilboa in Spain, and Prince Albert in South Africa), revived its local economy and generated international interest through the implementation of arts and culture projects. Oranjemund has the potential to become an art hub in Namibia, a highlight on any tourist's itinerary. We believe in the power of art to transform a town.
All the art inside is free, here are the following rules;
You are allowed to take only one painting at a time.
When you take a painting, you have to replace it with another. The reason why you are only allowed to take one painting at a time is to avoid somebody having their own solo show. We want to see a variety of art inside.
No painting may exceed 100cm². This is the universal standard for a miniature painting.
No printing of a picture is allowed.
You have to hand paint or draw or create something yourself.
No pornography is allowed either.
If you put in a new painting, you must WhatsApp it to Aurelia on +264813343725 and follow their Instagram page "OMD Tiny Art Gallery". She hopes the community of Oranjemund will keep the gallery full of beautiful art.